Culinary Knife Care
High end culinary knives should be handled carefully to avoid cutting yourself as well as to protect the edge. When care is exercised, safety is maintained and the knife will stay sharp longer.
Use the right knife for the job.
Our kitchen knives are high quality tools and should only be used for cutting food items. High quality knives tend to have harder steel, resulting in a less flexible, but keener edge. Prying and twisting motions will potentially damage the knife by chipping the edge. Bone and shells should be avoided, as should chopping nuts and chocolate, cutting hard cheese, crushing garlic cloves with the side of the knife, and prying apart or cutting frozen meats.
Do not wash in dishwasher.
Extreme heat from water and drying cycle will damage wood handles. Abrasives in detergent will significantly dull the cutting edge – even in just one cycle. Under no circumstances should any of our knives be sent through the dishwasher. A knife is best maintained if rinsed shortly after use in warm water and dried.
Protect the edge during storage and use.
Sliding against other utensils in a drawer will dull or chip the cutting edge. Storage in a knife block, on a magnet, or use of edge guards will help protect the knife and cutting edge.
Cutting on plastic, glass, Corian, or marble will dull knife edges. Use of natural wood boards such as maple or bamboo is best for keeping a knife keen. We feel that the best cutting board currently available is hinoki wood. Using this sort of board will generally keep a knife sharp significantly longer than other cutting surfaces. Do not push food along the cutting surface using the edge of the knife.
Regular honing will improve performance and extend time between sharpening.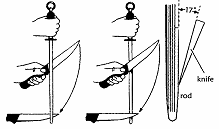 Sharpening and honing are two different processes. Honing is re-straightening the cutting edge using a rod. Generally, a ceramic rod will do the best job. Never use a diamond rod as this will damage the edge. During sharpening, abrasive stones or grinders remove metal and create a new edge. Successfully using a honing rod depends on keeping the angle between the knife and the rod consistent. Japanese knives are usually honed and sharpened at a 10-16 degree angle whereas European knives are generally maintained at between 17-25 degrees. Picturing the thickness of a paper matchbook between the rod and knife provides a good visual estimate of the proper angle for honing.
A knife should be honed at least every 2-3 hours of use. Rather than keeping track the time between honing, many people incorporate this into their routine. A knife can be honed either when it is brought out or when put away after use. When honing fails to restore a quality edge, it is time to re-sharpen the knife.
The first sharpening of many knives purchased from BladeGallery or The Epicurean Edge is free (if knives will be returned by mail, please be sure to include $10 for the first knife and $2 each additional knife for return shipping). If your knife includes free sharpening, you will receive a free sharpening card with the knife when it is received. Please inquire regarding our current sharpening prices for all other sharpening.