Yoshikane Hammer Finished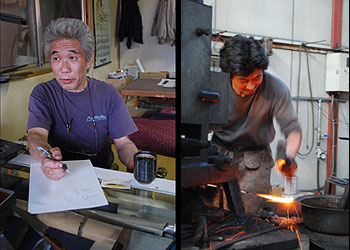 Yoshikane knives, made by the Yoshida family, are highly treasured. They make both single bevel and double bevel knives. Yoshikane Hamano is located in Sanjo, Niigata, an area well known for their high performance, hand forged knives. They were founded in 1919. The workshop is currently led by 4th generation bladesmith Kazuomi Yoshida (born in 1973). Yoshikane Hamano continues to excel.
The SKD Hammer Finished Knives are forged from SKD tool steel, clad in stainless steel. At 64 Hrc, they have durable, long lasting edges that non-the-less sharpens easily. SKD is a semi-stainless steel and will form a patina over time. The grinds are extremely even with thin edge for precision cuts. The blades feature a forged distal taper for optimal balance. SKD Hammer Finished Knives by Yoshikane are among the best knives in terms of cutting ability and overall quality that can be found anywhere.